raised at our Charity Model Railway Exhibition in Prestatyn. 12th March 2013.

Link to photos of our December 2012 Exhibition.
---
Our barge trip 2012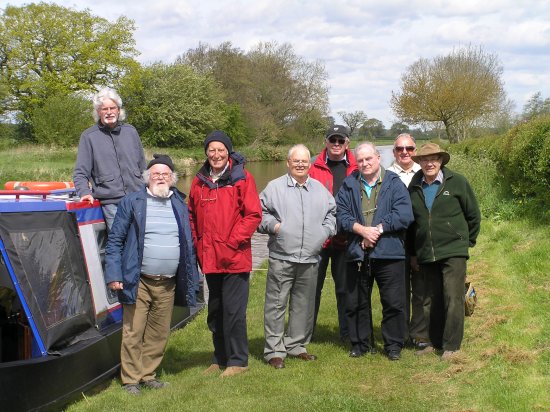 This years trip on May 13th was from Nantwich, from where we toured parts of the Shropshire Union Canal.
---
Manchester Wayfarer, 19 April 2012
Taking a break at Manchester Piccadilly. We visited Glossop, Hadfield, Buxton and Stalybridge during the day. Our courier was our good friend Charlie Hulme.
---
Oakland 3rd Street Yard on tour
Martyn Wild exhibited his American 'G' scale layout at The London Festival of Railway Modelling held on 24th and 25th March 2012 at Alexandra Palace. The full 26 foot length is seen above, with Martyn in 2014 contemplating his next plan, below.
---
Cheque presentation for 2011 Exhibition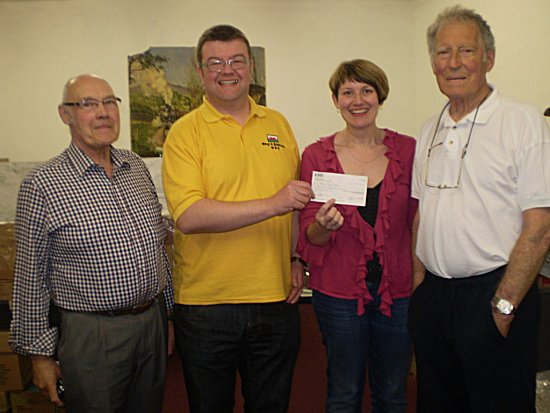 The cheque presentation to Ty Gobaith Childrens Hospice on March 27 2012. Left to right; Arthur Airey (R&DMRC Secretary), Martyn Wild (Exhibition Organiser); Eluned Yaxley (Ty Gobaith Fundraising Co-ordinator); Tony Williams (R&DMRC Chairman). £796 was raised for the charity by the Club's annual exhibition held at the Prestatyn Parish Community Halls last December. This will be used to help provide care for terminally ill children and young people and their families at their Conwy centre.
Link to photos of our Christmas 2011 Exhibition
---
Christmas 2011 meal
Enjoying the fayre at the New Inn, Dyserth on December 13th
---
Abertawe Adventurer, 28th September 2011
The season of special fares for those over a certain age is here again! Accordingly five of use had a trip to Swansea and back on Arriva Trains Wales. Photos taken while changing trains in Cardiff and Flint.
---
Mersey road tunnel tour - 15th September 2011
Four member of the club went on a most interesting visit to the Mersey Tunnels control room on September 15th. Here we are ready to descend into the depths. Tunnel tour details here
---
Oakland 3rd Street yard on tour
Some belated photos of Martin Wild's layout at the Trainwest 2011 exhibition in Melksham, April 2011.
---
A Borderlands meander - 27th July 2011.
Our second trip in July took in an evening ride on the Borderlands line from Wrexham to Bidston. Our route was Prestatyn - Chester - Wrexham - Bidston - Shotton - Prestatyn. The expeditionary force is pictured here at Wrexham General platform 4 awaiting the train to Wrexham Central.
---
3 minutes in Blaenau Ffestiniog - 6th July 2011
Our now traditional evening trip to Blaenau, this time photographed in the train due to inclement weather conditions!
---
Rhyl Miniature Railway centenary
Our friends on the Rhyl Miniature Railway celebrated their centenary at the end of May 2011. The three day event brought all six Rhyl built locos together for the first time in many years.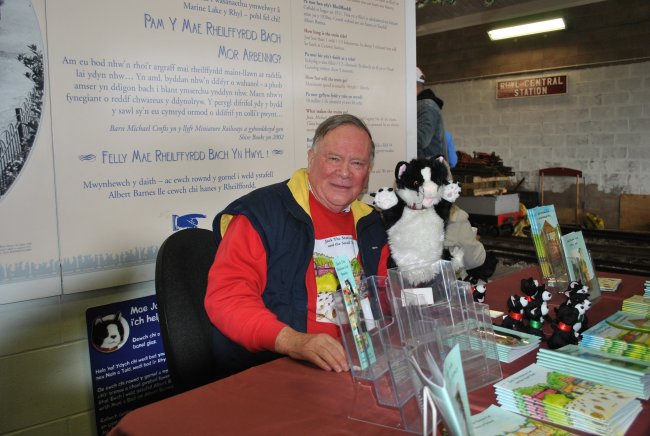 Club President Alan Cliff was busy selling his series of 'Jack the station cat' books.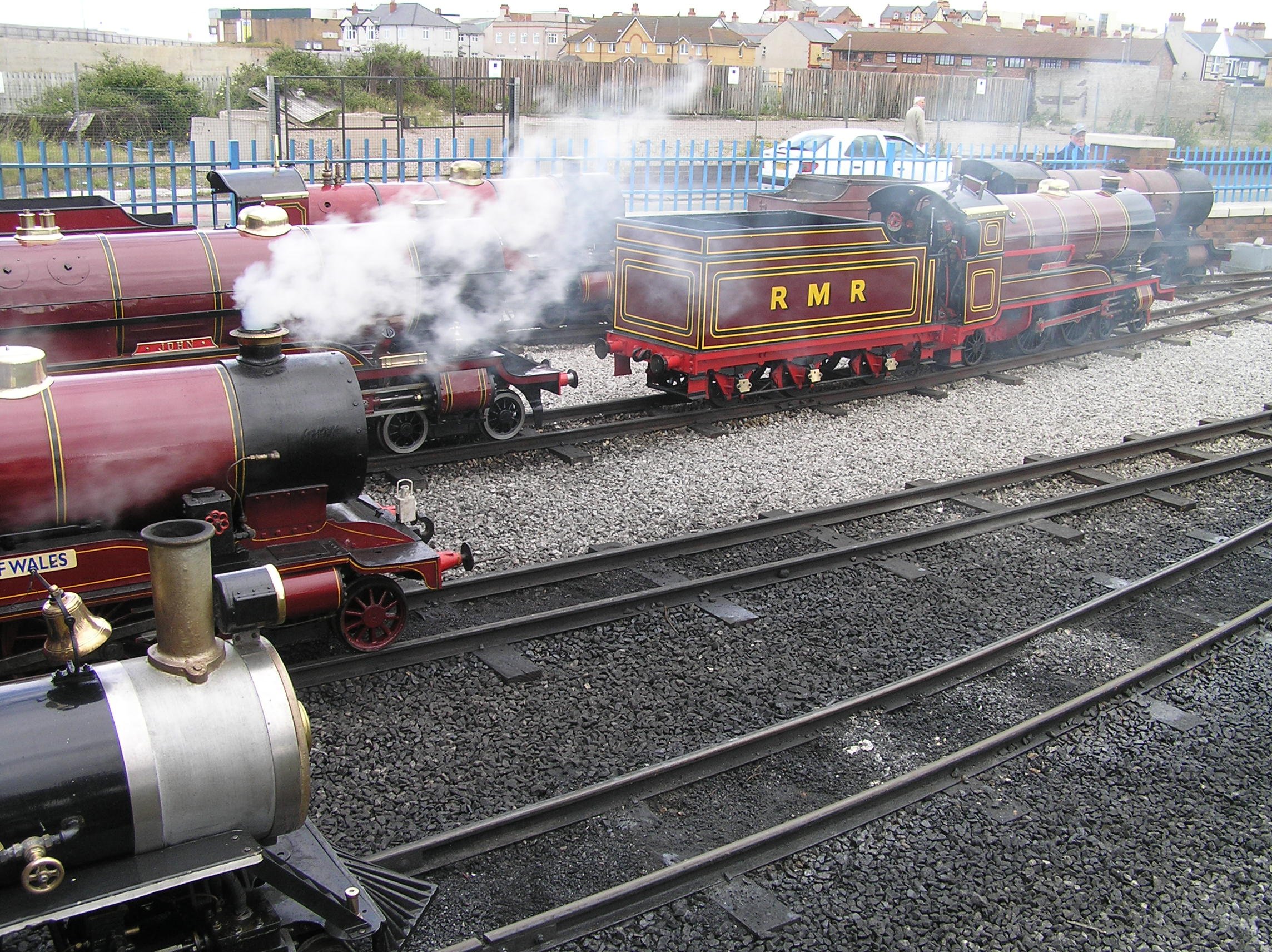 The impressive line up of locomotives.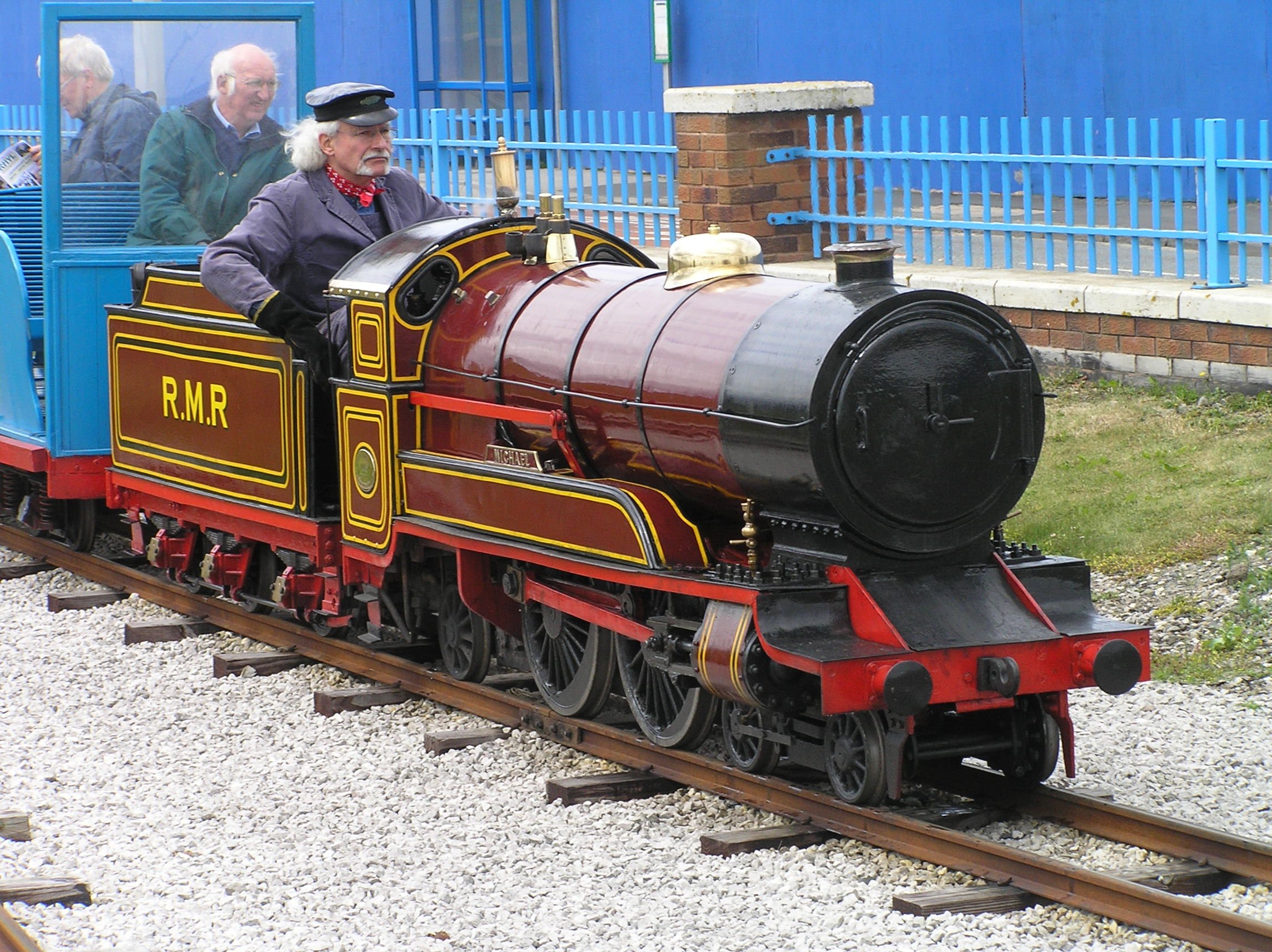 Club member Dave Bell driving Michael.
---
Eight men and a barge - May 2011
We repeated last years successful Llangollen canal boat hire on a gusty and showery May 22nd. Our craft for the day was Bella and luncheon was enjoyed at the Poachers Pocket, Chirk.
---
The Merseyrail Marauder, 5th May 2011
For the princely sum of £4.60 each, eight members of the club had a splendid day out on the Merseyrail network. We managed to cover the lines to Hooton, West Kirby, New Brighton, Liverpool South Parkway, Kirkby and Southport with the added bonus of a 'ferry cross the Mersey'. Jim proudly displays the clubs new headboard as we cast off from the Pier Head.
---
The Irwell Invader, 16th March 2011
Nine members of the club enjoyed a visit to the Manchester Museum of Science and Industry and then a full tour of the Metrolink system on 16th March 2011. The happy group is seen here at the Eccles terminus. Our courier for the day was Charlie Hulme of the North Wales Coast Railway website.
---
Cheque presentation for 2010 exhibition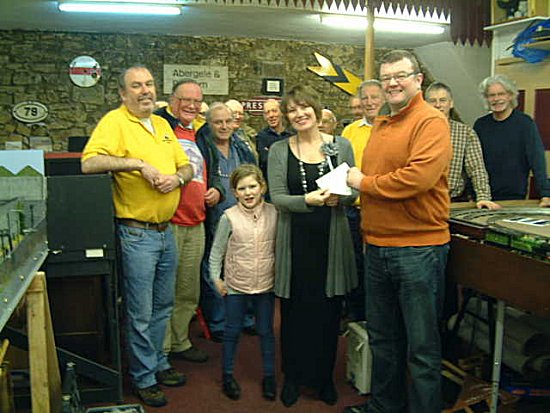 Martyn presents the cheque to Ty Gobaith fundraiser Eluned Yaxley at our clubhouse.
The Club presented a cheque for £940 to TY GOBAITH CHILDRENS HOSPICE on Tuesday 25th January. The money was raised at the Club's annual Charity Model Railway Exhibition held at the Prestatyn Parish Community Halls on 11th December. This is the second year the exhibition was held at this twin venue, and the second year we have supported Ty Gobaith in this way.
Organiser Martyn Wild says "Despite visiting numbers being slightly down on 2009 this is the most we have raised at an annual exhibition since we started the shows in 2001, and is testament to the hard work put into the show by Club Members and fellow exhibitors, and also to the public's generosity in these difficult times. Ty Gobaith (a part of Hope House and based near Conwy) is such a worthy local charity in its support to local terminally ill children and their families, yet receives minimal central funding that we are delighted to have been able to support them again in 2010. Rhyl MRC hope to find a major sponsor to help publicise our show even more widely in 2011, which is planned for Saturday 10th December."
The exhibition featured a wide assortment of UK and overseas themed Railway Layouts, as well as displays of model boats and buses, and local specialist Model Railway Retailers.
Link to photos of our Christmas 2010 Exhibition
---
Christmas celebration 2010
Photos from our Christmas meal at the New Inn, Dyserth on December 15th.
---
Cardiff awayday - 27th October 2010
The clubs hectic season of rail trips continued with a visit to Cardiff bay on October 27th. The assembled throng are seen next to a First Great Western HST at Cardiff Central. The view below shows the single car DMU used on the Cardiff Queen St. to Cardiff Bay shuttle.
---
Another trip to York, 6th October 2010.
Another trip to York and the National Railway Museum using Trans Pennine Express from Liverpool Lime Street. The motley collection of 'over 55's' are seen ready to depart from Lime Street.
---
4 minutes in Blaenau Ffestiniog, 25th August 2010.
An evening trip on the Conwy Valley line was undertaken recently using the North Wales Rover ticket. The happy group of travellers are seen during the 4 minute turnaround in Blaenau Ffestiniog.
---
A visit to the Saltney Railway - 16th August 2010
A visit was made to The Saltney Railway - an excellent 'O' gauge layout recently. This layout is the (indoor) successor to the (outdoor) Talacre layout. Considering the layout was less than 12 months old when we visited its development so far has been outstanding.
---
On the Cambrian Cruise - June 23rd 2010
A group of club members travelled on the Cambrian Rail Cruise in June. Using Arriva Trains to Blaenau Ffestiniog, the Ffestiniog Railway to Porthmadog and then back on the standard gauge via Barmouth, Machynllech, Shrewsbury and Wrexham to Prestatyn.
Merddin Emrys and Taliesin back on to our train at Blaenau.
Refreshments in Porthmadog (and very nice they were too!).
Our service from Porthmadog to Shrewsbury waits to attach the Aberystwyth portion at Machynllech.
---
Jack's Anniversary
The Jack the Station cat series of children's books is ten years old this summer. Written by Alan Cliff, President of the Rhyl and District MRC, these books can be found all over the UK.

The Rhyl Miniature Railway is holding a special birthday party from 11AM on Saturday July 31st at its station by the Rhyl Marine Lake. Alan Cliff will be signing his books.

A new book "Jack the Station Cat and the August Day" will be launched at the Rhyl celebrations. The book will feature an 0 gauge model railway.
---
A day on a canal barge, 9th May 2010.
Some of the more intrepid members of the club hired a day boat on the Llangollen Canal on May 9th. A thoroughly enjoyable day was spent cruising this most spectacular waterway. Click here to view the Gallery Page.
---
Club outing to York - 28th April 2010
Six members of the club made the pilgrimage to York Railway Museum at the end of April. The trip was made using a special offer by Trans Pennine Express from Liverpool. Above, the party is seen at York on arrival while below is 185 141, our transport from Liverpool Lime Street.
---
Sampling the seats on the Japanese Shinkansen vehicle.
---
For older news items - access this page
---
To the layouts page